A couple of things before we start this week's party...
First, I would like to than Jessica from
The Thriftiness Miss
for nominating me for the Versatile Blogger award!!! I am super flattered and excited that she nominated me! Thank you so much Jessica! I an incredibly busy this week, and unfortunately won't be able to fulfill the requirements for the award, but I did want to get that thanks out to Jessica. I hope you all go check out her
blog
, because it is really awesome!
Second, I want to wish you all a...
HAPPY 4th OF JULY!!!!!
I Hope you all have a fun and safe holiday!!!
Whoo Hoo!!! last week, I set a goal to get at least 35 links... well, with your help, we SURPASSED that and got 40! What do you say we go for 45 this week? Can you help make that happen? I'll bet you can!!!
I had so much fun checking out last week's links and pinning them all! I hope you all checked them out too! Thank you everyone who participated!|
Are you ready for this week's features? Remember, if you are featured, your button gets a "Featured Guests" spot in my right sidebar!
"Most Clicked On" Feature:
"My Favorites" Features:
| | |
| --- | --- |
| Crafty Moms Share shared these awesome | |
Thanks for sharing and Don't forget to grab your featured button!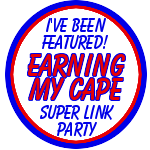 Now on to this week's party!