My name is Susie, and I am a Pinterest addict.
Instead of trying to fix it, I decided to embrace it.
How better to embrace something, than to have a party? Am I right?
Here's how it works:
Make sure you are following me on Pinterest, so I can add you to the board. (Leave a link to your pinterest profile in comments when you follow, so that I can follow you and add you. I will add you as soon as I can! Once you are added, you are automatically added for participation in future parties... this means, it will get easier for all of us! lol)
Choose up to five "pinworthy" projects, recipes, ideas... you get the picture... from your own blog or website.
Pin them on my Blog Party board.
Check out the other awesome pins there. Repin pins you like (to your own boards), follow blogs that interest you, and have fun!
Easy right? Just click the link to get to my party board!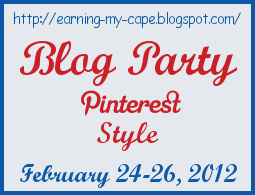 Since this is my first "party", and not many people are signed up yet, I may extend it past the 26th. (I'm still working the bugs out).
(And hoping it works! lol)